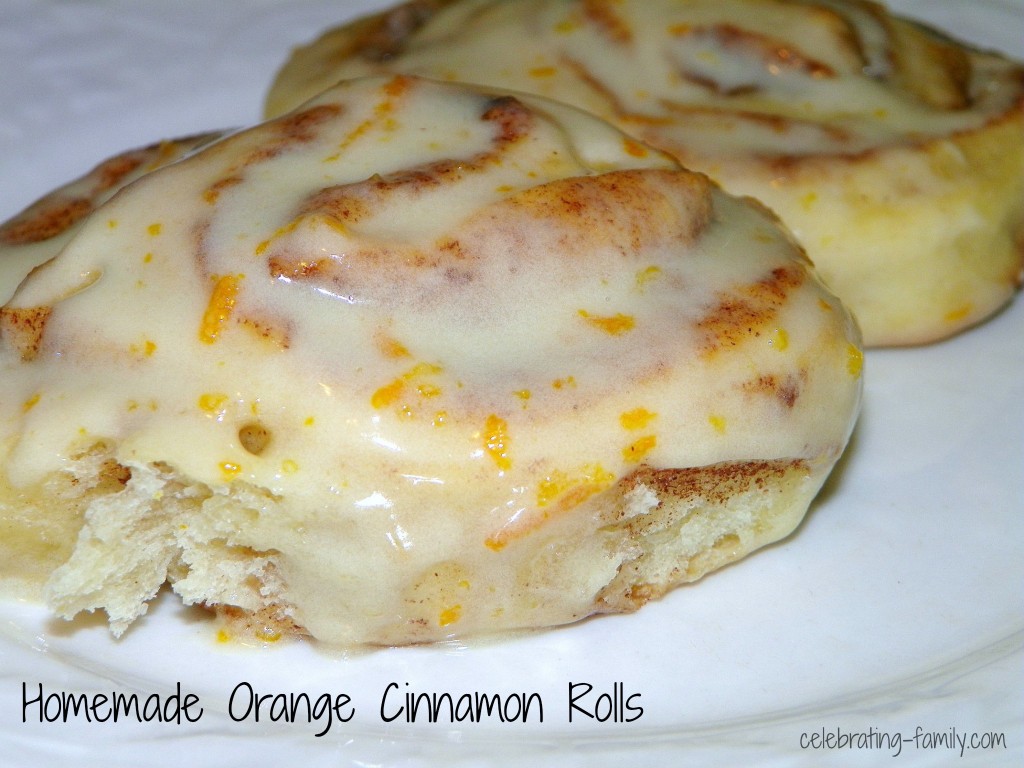 My mom made a lot of treats from scratch when I was growing up, but she did occasionally take a break and buy ready made goodies, too. One of my favorites were the orange cinnamon rolls that come in the tube. Pop them open, throw them in the oven, and you've got yourself a yummy treat. Now that I know about artificial flavorings and other not so appetizing ingredients in a lot of these convenience foods, I try to make as much as I can from scratch. When I found this recipe for homemade Orange Cinnamon Rolls, I knew I had to try it.  This recipe is from the food.com site, but altered with a few tips of my own.
Orange Cinnamon Rolls

Ingredients
1 package active dry yeast
1/2 cup warm water (105-115 degrees)
1 1/2 teaspoons orange zest
1/2 cup orange juice
1/4 cup sugar
1 teaspoon salt
1 egg
2 tablespoons butter
3 -3 1/2 cups all-purpose flour (sifted)
Filling
2 tablespoons sugar
1 teaspoon cinnamon
1 tablespoon butter
Optional Icing
1 cup confectioners' sugar
1/4 cup cream cheese, softened
1 tablespoon orange juice
1 tablespoon orange zest
1 teaspoon vanilla extract
Directions:
Dissolve yeast in warm water in large mixer bowl.

Add orange peel, orange juice, sugar, salt, egg, butter and 1 1/2 c of the flour.

Beat 30 seconds on low, scraping bowl constantly; increase speed to medium, beat 2 minutes, scraping bowl occasionally.

Stir in enough of the remaining flour to make a dough easy to handle.

Turn dough out onto floured surface and knead 5 minutes and dough is smooth and elastic.

Cover; let rise in warm place until double, about 1 to 1 1/2 hours (dough is ready if an indentation remains when dough is touched).

Punch dough down and, on a lightly floured surface, roll into a rectangle 15×9″.

Spread w/ 1 TB butter and sprinkle w/ combined 2 Tb sugar and 1 tsp cinnamon.

Roll up, beginning at one of the long sides; pinch edge of dough into roll to seal well; stretch to make roll even.

Cut roll into 15 slices about 1″ wide.

Place slices slightly apart in a greased oblong baking pan, 13x9x2″, or in greased muffin cups.

Cover and let rise until double, about 30 minutes.

Bake in a 375 degree preheated oven until rolls are golden brown, about 25 to 30 minutes (my oven only took 17 minutes).

Mix together confectioner's sugar, cream cheese, orange juice, orange peel, and vanilla; frost while warm.