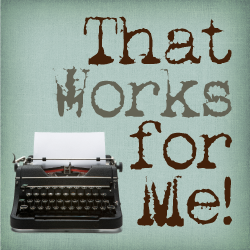 That Works for Me is a wonderful collection of 1000 tips from women who know their stuff. I am so excited that two of my posts were chosen to be  part of this fun and useful e-book. I have had the opportunity to review this book and I simply loved it. The e-book is organized by category and includes some amazing and helpful tips. A few examples of what you will find inside are ways to save money on gas, many great recipes, how to get your kids to eat more produce, natural weed control, and more. This e-book is worth a lot more than its $8 price.
I am offering you the chance to win a free copy of this e-book and there is also a coupon code for $1 off at the bottom of the post.
To save $1 off the price of the e-book, enter SAVE1 when ordering. You can order here.
.