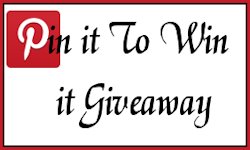 A group of bloggers have teamed up to host a giveaway to share our love of Pinterest. In the Pin It to Win It Giveaway, one lucky person (aka pinner) will win $125 Cash paid via Paypal!
Entering is easy. Just pin a picture in any ONE of the posts below to one of your boards on Pinterest and leave us a link to your pin on the Rafflecopter form!
If you are not on Pinterest, please request an invite via this form and we will send you one. You can learn how Pinterest works on this helpful video tutorial by Thrifty Ninja.
Prize: $125 USD paid via Paypal
Dates: January 18 to February 1