On a recent trip to the movies my children were squabbling over the popcorn. I generally buy one large popcorn and divide it up into the cardboard drink carriers our local theater hands out.  My children were arguing over who got which carrier and how much popcorn they had. That's when another mom told me about a great idea she implemented with her children for their trips to the movies. I thought it was a great idea and so, of course, I am sharing it with my readers.
Before you head out to see that summer movie, give each child a good-sized paper lunch bag. Have them write their names on their bag and decorate it however they see fit. Once you get to the movies, pour some popcorn into each child's decorated bag. My children were very excited about this. There was absolutely no squabbling and everyone was happy, including me.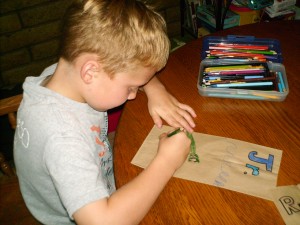 This idea was fun and easy to do. I love crafts in general, but it is fun to find a craft that has a purpose. Of course, the bags are only really useful once, but that just means it is a craft we will be repeating. My children are already talking about the next movie and the next popcorn bags.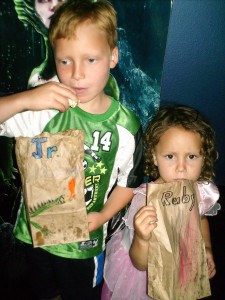 Do you have any ideas for making movie trips easier and more fun? Feel free to leave a comment.  Share and let's talk about it.
---
Before you go, would you take a minute and vote for this blog? Just click on the button below and that will be your vote.  Thanks!

<——-Click on this button to vote for Celebrating Family.